The Popmoney® personal payment service lets you send money to friends, family or anyone at all.*  All you need is their name and email address or mobile number to move money from your bank account to theirs.
And because Popmoney is part of ePay, sending money has never been more secure or convenient—just login to ePay using your existing Online Banking password. The money goes directly into their account usually within one to three businesses days, regardless of where they bank.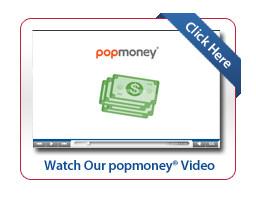 No checks, stamps or cash to pay someone back
No need to wait for checks to cash. No trips to the bank to deposit money
Fees vary by transfer amount and by the speed of transfer that you choose:

Standard Transfers (1-3 days) vary between $0.50-$1.50
Next Day Transfers range from $0.85-$1.00
It's easy to get started
Already enrolled in ePay? Then it's easy to use Popmoney.
Login to Online Banking
Click "Popmoney" tab within ePay
Enter the person's e-mail address, mobile phone number or their routing number and account number
Enter the amount to pay (minimum $5.00) and submit
It's that simple!
*Terms and Conditions, as well as fees apply